Apex Authors Guide to Optimizing Kindle Listing Page Conversions
"Conversions" is marketer speak for "sales". We're not hard-core marketing flacks, but as indie authors we use that word for one important reason. 
You don't want to sell your book. You want to convert a stranger into a reader and fan.
That process begins with having a sharp, professional, fully optimized listing page. It's your display for your book, and its quality determines whether or not strangers will buy it. 
We sat down with Ryan Flanagan of Nuanced Media, author of The Amazon Opportunity and Marketing is Dead! Long Live Marketing! Ryan's mastery of Amazon listing mojo has netted his customers over $10,000,000 in sales. He was kind enough to share with us his map for an optimized book selling page. 
A Great Book Cover, Plus Extra Annotated Photos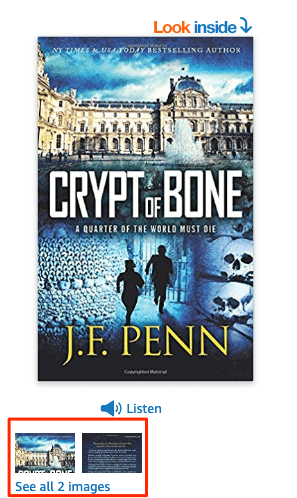 You already know the value of an excellent book cover designed by an expert, and that it is the single most important factor in whether or not a new prospective reader tries you out as a new author. Ryan points out some additional interesting facts.
Says Ryan, the number of Amazon customers who buy from their phones and other mobile devices is increasing each year. Further, most mobile buyers don't even look at the book description. They scroll through the available images to make their decision. 
The solution? Provide your cover image, plus three or four annotated images. These can be the book in position, or an image that evokes the story, overlaid with a simple line that describes the book compellingly. This could be a line from the book, a great review blurb, or any other brief description likely to grab a browser's attention. 
You can make these images with online tools like canva.com or imgflip.com. If you need images, unsplash.com is the best source of absolutely free, full-rights photos. 
Find out more about how to make your book cover shine at the Apex Authors resources below. 
Multiple Formats Available
Making your book available in paperback, ebook, and even audio provides three powerful advantages:
It creates additional income streams, attracting buyers who prefer one format over the other
Amazon makes a separate page and search result for each, further populating search results with your book
It makes your listing appear more professional, like it was done by somebody who knows what they are doing and is professionally invested in their books. 


Taken all together, this small detail can make a big difference in your bottom line. It both sells more copies, and provides more ways to sell copies. It's a win-win.
Don't get us wrong. You should start selling your book as soon as you have it available in one format. Just get those other formats rolling as soon as possible and watch your earnings rise. 
Check these Apex Authors resources to learn more about the how and why of adding new formats. 
A Gripping, Keyword-Rich Description


According to Ryan, even though fewer and fewer buyers read the description it still plays a valuable role because of keywords. When somebody searches for a topic or genre, the keywords in the description are part of what Amazon's algorithms use to decide which books to show. 
Further, keywords are what helps it decide which topic rankings your book will appear in. Strategically chosen, well-placed keywords will qualify you to rank for the best categories, boosting your sales substantially.
Ryan recommends packing your description with your keywords. Don't make the prose awkward, a la 2005 blog content, but do find ways to work your keywords in several times each. This can be a challenge, but you're a professional wordsmith, right? This is what you do. 
Learn all about finding and using the best possible keywords with these Apex Author resources:
Strong Editorial Reviews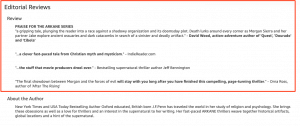 You already know about the importance and power of regular reader reviews at the bottom of your page. Editorial reviews are quotes and blurbs you insert in the description of the book, usually gleaned from reviewers and fellow authors willing to say nice things about what you wrote. 
For Amazon, the reviews at the bottom are the most important. For human browsers, though, the editorial reviews carry strong weight. This is partially because they will appear first while scrolling through the book's description, and partially because you can format them to catch the eye. 
Ryan suggests you'll get your best results by getting these reviews early, from advance and beta readers and reviews, and including them in the description from the beginning. Just three to five should be sufficient. Make certain to highlight and draw attention to any blurbs from a well-known author, reviewer, or other celebrity. 
Research the power of strong reviews, and how to get them, with the Apex Author resources below:
One or More Video Shorts
Adding video content to your book listing isn't for everybody, but according to Ryan it's one of the best ways to stand out in the increasingly thick crowd of people selling things on Amazon. If at all possible, make certain this option is not empty.
Video content for your listing could be a book trailer, or a live reading of a chapter, or announcements about your work. Reaction videos of other people reading and being delighted by your work are another reaction. Even something simple, like an unboxing of your newest book can be powerful and engaging. 
Check out this Book Ninja Academy course on creating a video book trailer for your book:
Link to Your Author Page
This is cheating a little bit, because once you've set up your author page, Amazon does all the work for you. If you have one in place, every one of your book listings automatically populates with a number of cool marketing tools: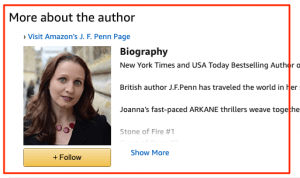 Your awesome author photo
Your well-written bio
Opportunities for cross-selling
Links to photos from your author page
Even more videos about your work
It's near the bottom, and few mobile browsers will see it, but Ryan says it can still make a difference. It's especially important when converting people who've read one of your books into people who want to read all of your books. 
Master your Author Page on Amazon:
200305